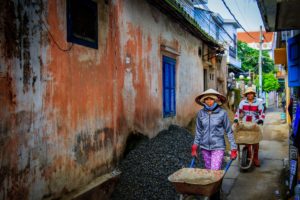 Freedom Network partner Southern Poverty Law Center was part of a successful case that awarded $14 million in punitive and compensatory damages to Indian workers of a Gulf Coast marine services company.  These workers were found to be lured by an immigration lawyer and an Indian labor recruiter to work in a Mississippi shipyard with false hopes of attaining U.S. residency.
The men were hired in the aftermath of Hurricane Katrina, and paid high fees to obtain the jobs initially.  Upon arrival, the company, Signal, forced each person to pay $1050 per month to live in a cramped, isolated labor camp.  None of the non-indian workers for the company were required to live in these conditions.
This incident is a step forward in guest workers' rights, and shows that this type of treatment will not be tolerated and will be prosecuted with success.
For more information on this case, follow this link to SPLC's website.
*The SPLC's co-counsel in this case are Crowell & Moring, LLP, the American Civil Liberties Union, the Asian American Legal Defense and Education Fund, Sahn Ward Coschignano & Baker, and the Louisiana Justice Institute.
To get involved in the flight against human trafficking, please join Freedom Network USA at their 13th annual conference in Washington D.C. on April 21 and 22.