The Freedom Network Training Institute (FNTI) is the premier training resource for professionals in the human trafficking field. FNTI provides in-person and online training, fact sheets, tools, and templates that are based on a client-centered and trauma-informed approach. The Institute has trained thousands of professionals across the country, utilizing facilitators who are subject matter experts in the field.
Upcoming Trainings
We offer a variety of paid trainings on a wide range of topics. Check out our upcoming training opportunities below. If you have questions, you can reach at training@freedomnetworkusa.org.
Introduction to Human Trafficking: Theory and Practice
Date: Thursday, November 4, 2021, from 1:00-3:00 p.m. EST
Speakers: Alicia Kinsman, Maja Hasic and Evelyn Chumbow
Description: the Introduction to Human Trafficking is a 2-hour session designed for new professionals in the field. The training will give participants a foundation of human trafficking theory and practice. Participants will learn what human trafficking is, what legal services and social services are available to survivors, and practice points within those professions. The training will explore case studies and give practical tools for service provision. The session will be delivered by practitioners in the field who will share best practices.
Cost: $40
Check Out Our New Infographic!
This infographic provides a visual representation of the pathways to services and housing options that youth survivors of human trafficking may have access to. This resource is intended for service and housing providers who work with youth and youth survivors of trafficking.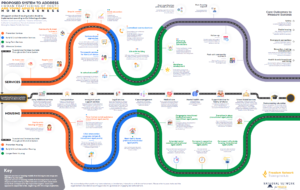 Through our Speakers Bureau, the Freedom Network Training Institute offers individualized training on human trafficking for professionals. We work with experts in the field from a diverse range of organizations and geographic areas (e.g., legal services, social services, and survivor engagement).
Our experts provide presentations and facilitate workshops highlighting current trends and best practices. Members of our Speakers Bureau work directly with survivors and are informed of the current landscape of human trafficking in the US.