Training and Technical Assistance
Access to safe and affordable long-term housing is critical for survivors of human trafficking as they seek supportive services, justice, and, ultimately, heal. Affordable housing programs, including transitional and long-term, often have long waitlists and may restrict eligibility based on immigration status, criminal history, rental history, or current income. The housing landscape is truly complex and can be difficult to navigate.
The Freedom Network Training Institute (FNTI) provides advocates dynamic and up-to-date training and resources on housing options for survivors of human trafficking. The training, tools, and resources offer information and guidance for advocates in accessing appropriate emergency, transitional, and long-term housing options for survivors. FNTI's Housing Training and Technical Assistance Project includes a wide array of expert consultants, including a Survivor Advisory Panel, supporting the creation of tools and delivery of training. You may access and share our materials by visiting the Resource Library. Feel free to contact us with any specific requests using our 'inquiry' link below.
Upcoming Technical Assistance Session: Working with Homeless Shelters to House Survivors of Human Trafficking
As a follow-up from our webinar in May, the FNTI Housing Project invites you to attend a technical assistance session on Working with Homeless Shelters to House Survivors of Human Trafficking. This live technical assistance session will answer questions about the collaboration between anti-trafficking programs and homeless shelters and allow participants to share their own insights. Participants can submit questions to the panelists through the registration link. All are welcome- participation is not limited to those who joined the webinar in May.
Thursday, June 20 2019, 3:00 – 4:00 PM ET
Watch Our Most Recent Webinar
This webinar explores homeless shelters as a potential housing resource for survivors of trafficking. Panelists shared information on identifying when a referral may be good fit for a survivor and shared best practices for training and collaboration with homeless shelters.
A Guide for Anti-Trafficking Programs Working with Domestic Violence Shelters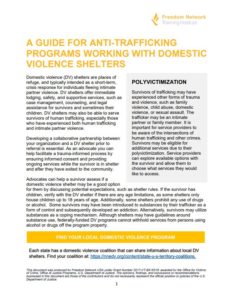 Domestic violence (DV) shelters are often utilized as emergency housing for survivors of trafficking. This guide provides anti-trafficking programs guidelines on assessing if a DV shelter is a good fit for a trafficking survivor and ideas for creating effective collaborations with DV programs.
Continuums of Care and Anti-Trafficking Programs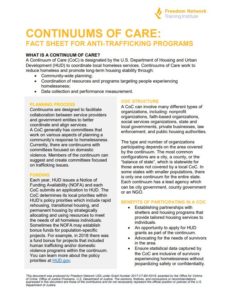 This fact sheet provides an introduction to Continuums of Care (CoC) and explores how anti-trafficking organizations can collaborate with their local CoC.
Inquiries
Fill out the form below to contact our project staff. Please allow three business days for a response.
This webpage was produced by Freedom Network USA under Grant Number 2017-VT-BX-K018, awarded by the Office for Victims of Crime, Office of Justice Programs, U.S. Department of Justice. The opinions, findings, and conclusions or recommendations expressed in this webpage are those of the contributors and do not necessarily represent the official position or policies of the U.S. Department of Justice.